We first discussed Azuki as a leader in Web3 brand identity, now we'll review the Azuki brand using traditional marketing tools. The Marketing Mix - also called the "4 Ps" (Product, Price, Place, Promotion) - helps define brand position and provides context for assessing its strengths and weaknesses. Earlier posts assessed CryptoPunks and Bored Ape Yacht Club brands. What is the Azuki marketing mix and how does it compare?
Azuki Marketing Mix
Azuki launched its 10,000-character collection in January 2022 - at the height of the NFT craze. Azuki differentiated itself from the competition by coupling high quality Anime imagery with the promise of a multi-media, multi-platform Anime community experience including real world benefits for holders.
We are guided by a simple yet profound vision - create the largest decentralized brand for the metaverse that is built and owned by the community. Azuki.com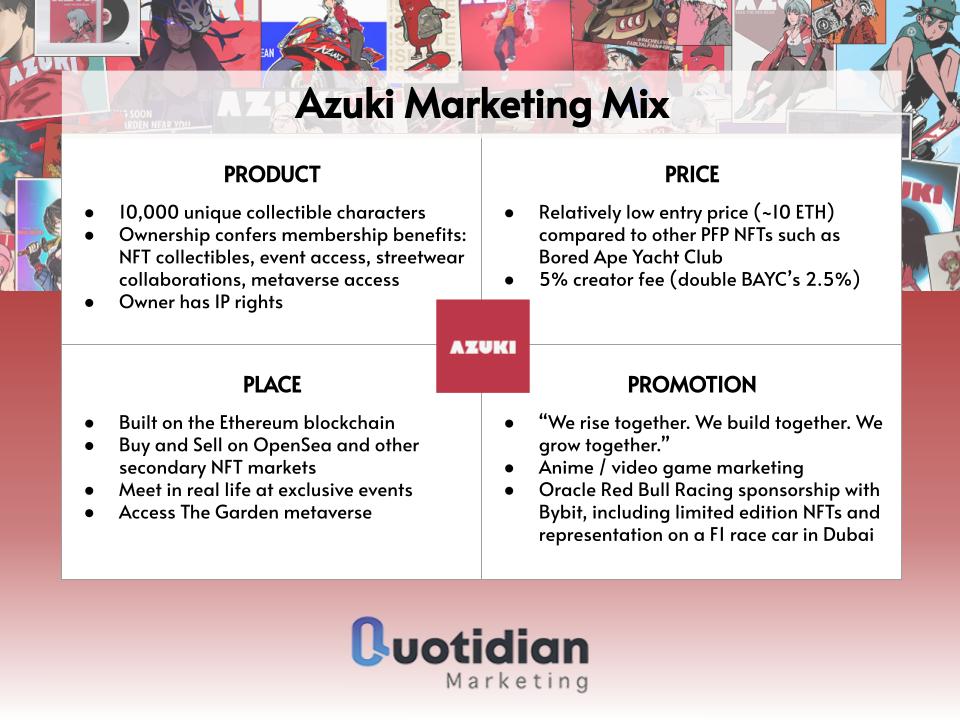 Product
Azuki NFTs confer IP ownership rights as well as access to The Garden metaverse. The brand promises to build value over time by using Azuki characters in content that reaches a mass audience.
"The dream is for Azuki to have such big IP (intellectual property) that there's an animated series, maybe even games and all kinds of merch'' Arnold Tsang
Azuki holders also receive NFT collectibles and other gifts such as branded streetwear for participating in community building actions.
New racing jacket just dropped in the Collector's Profile 👀

To earn a special community badge in the Collector's Profile, equip your Azuki with the racing jacket & share to Twitter w/ the hashtag #AzukiF1

Make some noise for the 2022 Abu Dhabi GP 🏎️ https://t.co/ZcGVtcGh9V pic.twitter.com/SGqWqsrNVj

— Azuki (@AzukiOfficial) November 17, 2022
Price
Azuki's creator fee on OpenSea is 5%, setting the brand apart from competitors such as CryptoPunks (0%) and Bored Ape Yacht Club (2.5%). However, the approach to creator fees underscores the promise to help builders grow in the metaverse. This Azuki price differentiator may indicate that Doodles and CloneX (each at 5% creator fee) have similar marketing mixes and are direct competitors.
Place
Like event marketing leader Bored Ape Yacht Club, Azuki is known for elaborate immersive events, and this is a strategy the brand intends to build out in the future.
wtf the @AzukiOfficial event is wild

they totally disneyland-imagineered this place pic.twitter.com/FXR2wulwfV

— Udi Wertheimer (@udiWertheimer) June 24, 2022
Azuki launched on the Ethereum blockchain, but recently released a special edition collection on the Tezos blockchain, making the brand accessible to a new group of NFT collectors.
Promotion
Azuki's promotional mission is to attract a mass audience that is willing to engage with the brand. The Azuki target audience is primarily composed of Anime fans, and the brand hopes to tap into a thrill seeker persona using skateboarder imagery. Promotional tactics include brand collaborations with RedBull Racing and ByBit, as well as special edition NFT collectibles available to Azuki holders.
Putting It Together
In summary, the Azuki target audience is composed of Anime fans who are interested in the metaverse. The products are digital collectibles with proof of ownership, priced to benefit creators, minted on the Ethereum blockchain, available on the OpenSea marketplace, and promoted via mass audience tactics including high profile sponsorships.